Recordings
---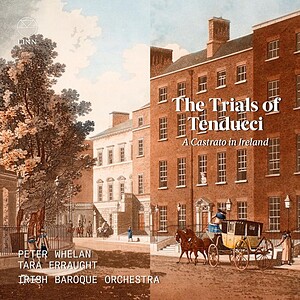 The Trials of Tenducci
Linn Records
Peter Whelan and the Irish Baroque Orchestra introduce us to superstar castrato Giusto Tenducci on their new recording, described as "a modern treat dressed in a baroque 'n' roll scandal".
Many trailblazing early classical composers visited Ireland during this time including van Maldere, Pasquali and Giordani (some even incorporate Irish traditional melodies into their symphonies).
Perhaps the most famous visitor to Ireland at this time was the superstar castrato, Giusto Tenducci, who had works especially written for him by Mozart, Haydn and J. C. Bach. To tell his swashbuckling tale, IBO is joined by present-day superstar Irish mezzo-soprano Tara Erraught, performing works which would have been sung by Tenducci in Ireland.
This programme also includes modern-day premieres from the collection at the National Library of Ireland including van Maldere's Sinfonia in G, known as the 'Dublin' Sinfonia, Giordani's much-admired Overture and Irish Medley to the entertainment of The Isle of Saints and The Braes of Ballenden by J. C. Bach.
17 March 2021
---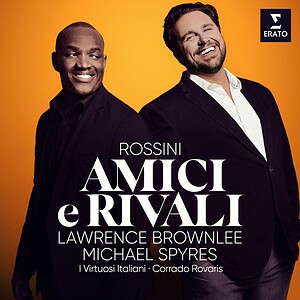 Amici e Rivali
Warner
Two of today's most brilliant tenors, Michael Spyres and Lawrence Brownlee, strike sparks off each other as they celebrate the star tenors of Rossini's time, such as Andrea Nozzari, Giovanni David, and Manuel García. Amici e Rivali – 'Friends and Rivals' – comprises arias, duets and trios from seven of the composer's operas, including the ever-popular Il barbiere di Siviglia and the rarely heard Ricciardo e Zoraide. The 'duelling tenors' are joined by the effervescent Irish mezzo-soprano Tara Erraught, the prize-winning young Spanish tenor Xabier Anduaga, I Virtuosi Italiani and conductor Corrado Rovaris.
17 January 2021
---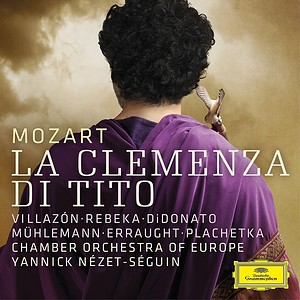 La Clemenza di Tito
Deutsche Grammophon 0289 483 5210 4
WOLFGANG AMADEUS MOZART
La Clemenza di Tito
Rolando Villazón · Marina Rebeka
Joyce DiDonato · Tara Erraught
Regula Mühlemann · Adam Plachetka
Chamber Orchestra of Europe
RIAS Kammerchor
Yannick Nézet-Séguin, conductor
Int. Release 06 Jul. 2018
2 CDs
Recorded live in performance in Baden-Baden
06 July 2018